The West Central Neighborhood Alliance makes it their goal every year to celebrate and remember the role that Springfield played in the naming of the historic highway, Route 66, on April 30, 1926. This iconic road stretches from Chicago to Los Angeles and traces of the "Mother Road" can still be found along Kearney Street, Glenstone Avenue, College and St. Louis Street. Many will be gathering on August 9th to celebrate our rich history at the Birthplace of Route 66 Festival on Park Central Square.
There will be a classic car show, bands, vendors, food, and activities for the kids. If you are ready to celebrate our cities history, then take a look at the details below.
The Details…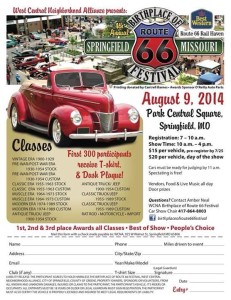 August 9th, 2014 at Park Central Square in Springfield, MO
Free admission to the public
10am-4pm
This is a wonderful family event in Springfield, MO. Grab a friend and head downtown to see classic cars and take a stroll down memory lane. The Route 66 Festival in Springfield, MO will have something for everyone.
If you are looking for things to do in Springfield, MO then don't forget, the 2014 Ozark Empire Fair will only last for a few more days, so grab your tickets and enjoy a great summer event!
If You are planning get medicaments online, now may be the best moment to do so. You can get drugs from the comfort of your desktop. Let's talk about other drugs you can buy from the Web. If you're concerned about sexual disfunction, you have to study about levitra 20mg price. Currently many patients search for the exact phrase levitra 20mg on Google. (Read more levitra 20 mg). Most people perchance think the efficacy of Kamagra is well documented. As a rule, this may switch on high blood pressure, kidney disease, or a venous leak. What medication is suitable for erectile disfunction? The very much first thing you must be sure that when you buy drugs like Kamagra online, you get real medicine. Many of the web-sites offer potentially perilous fakes.