Tigers, clowns, and high flying acrobatics are all part of the Shrine Circus in Springfield, MO. The 2014 Shrine Circus will have all the fan favorites plus more…you can even join them for a Circus Pre-Party one hour before the show for a ride on an elephant or pony, some face painting, and an introduction to some of the stars.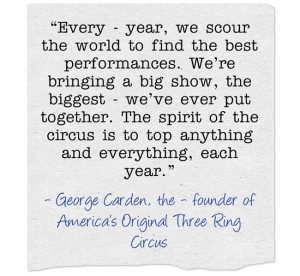 JQH Arena will be filled with children and adults alike starting Thursday, April 3rd. The Abou Ben Adhem Shrine Circus will only be in town for 4 days offering 8 shows of thrilling feats.
So, hurry and grab your tickets at the JQH Arena Box office or here online. We even have a Shrine Circus coupon for savings.
Dates: Thursday, April 3rd – Sunday, April 6th
Location: JQH Arena
Time: Thursday 7:00 pm, Friday 11:00 am & 7:30pm, Sat 11 am & 3 pm & 7:30 pm, Sun 2:30pm & 6:30pm
Admission:

Special VIP Ringmaster Reserved Seating $37.00
Reserved Spectacular Seats $26.00
General Admission Seats $20.00
Super Saver Seating $9.00
Thursday Night Only: all available seats will be general admission and only $8
Ticket prices do not include handling fees.
Children who have not yet reached their 3rd birthday are free, but must sit in a parent's lap.