After Jim's retirement, he frequently stopped at a local pizza joint for a slice of pizza and a Coke. He fell in love with the place and decided to make it his own. It is now known as Cravin Pizza. Jim used his travel experiences in Italy to create the best Italian pizza in Springfield, MO.
It is his passion to use time tested recipes from Italy to create the most authentic sauce and dough. Combine that with the use of the finest local ingredients and you have the best pizza in Springfield, MO straight from Southern Italian seaside villages.
Contact Information: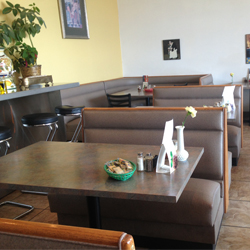 Cravin Pizza
3641 E. Sunshine St
Springfield, MO 65809
(417) 890-8255
Menu: Gluten free options are available
Hours of Operation:
Open 7 days a week
11 am to 9 pm, stays open later on Friday and Saturday
If you are looking for a high quality, handmade to order, original and authentic Italian Pizza then head to Cravin Pizza in Springfield, MO. There you will not only find pizza that is a cut above the rest, you'll also find staff that aims for superior customer satisfaction.
Take it to go or stop in to relax and have a good time with friends and family.