Horsefest is back at the Ozark Empire Fairgrounds. This was one of my favorite things to do in Springfield, MO as a child. Walking the barns and seeing a show in the arena will be some of the highlights for many this spring along with the Ozark Empire Pro Rodeo. Grab your tickets and enjoy seeing some of the most beautiful horses in the Ozarks. 
2014 Horsefest in Springfield, MO:
Huge Horse Oriented Trade Show
Respected Clinicians
Equine Entertainment
Guy McLean: Australian Horseman, Entertainer & Bush Poet
Here is a schedule of events
Admission: Adults – $10 • Youth (13-18 yrs. old) $5 • Children (12 & under) Free!
Friday, March 21st – Sunday, March 23rd
8:30 am – 5 pm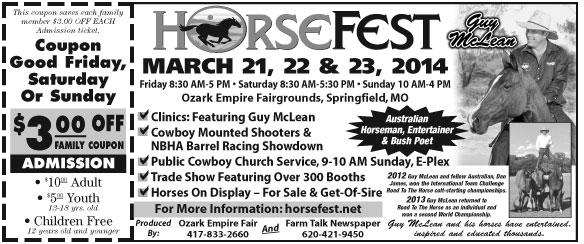 Ozark Empire Pro Rodeo: Friday, March 21st & Saturday, 22nd
The PRCA Pro Rodeo presented by Wrangler and PFI Western Store will star funny man Lecile Harris and intermission entertainment Guy McLean.
Purchase tickets at PFI or online at www.ozarkempirefair.com. VIP Reserved seats are $30, Adult General Admission (ages 13 and up) are $18, Child General Admission (ages 3-12) is $14 and kids 2 and under are free.
Rodeo begins at 8:00 pm and VIP gates open at 6:45 pm. General admission gates will open at 7:00 pm. After party will be hosted at Midnight Rodeo following the event both Friday and Saturday.
If You are planning get medicaments online, now may be the best moment to do so. You can get drugs from the comfort of your desktop. Let's talk about other drugs you can buy from the Web. If you're concerned about sexual dysfunction, you have to study about levitra 20mg price. Currently many patients search for the exact phrase levitra 20mg on Google. (Read more levitra 20 mg). Most folk perchance think the efficacy of Kamagra is well documented. As a rule, this may turn on high blood stress, kidney disease, or a venous leak. What treatment is suitable for erectile dysfunction? The extremely first thing you must be sure that when you buy drugs like Kamagra online, you get real medicine. Many of the web-sites offer perhaps perilous fakes.