Convoy of Hope was formed in 1994 and their World Headquarters is in Springfield, MO. Their mission is to feed the world, and many who have lived in the Ozarks have seen them accomplish their goal. They have built bridges across denominational, ethnic and socioeconomic lines throughout our community and the World, which is part of their core values. For 16 years Convoy of hope has helped more than 51 million people. They have reached over 100 countries.
We are blessed to have such an amazing organization in the Ozarks. They have a variety of ways that you can join them to help feed the world…whether it's through feeding initiatives, community outreaches, or being part of disaster response teams.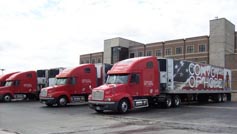 Contact Information:
Phone: 417.823.8998
Fax: 417.823.8244
Address: 330 S. Patterson, Springfield, MO 65802
Website: www.ConvoyOfHope.org
The mission of Convoy of Hope is simple – we exist to feed millions of people in need in the United States and around the world through children's nutrition initiatives, citywide outreaches and disaster response.
Ways to Volunteer:
Community Outreaches
working a children's game
 sorting groceries
handing out food & water
To get involved in an outreach in our area, check out their Upcoming Events Calendar and click on an community outreach that you would like to participate. Contact the local coordinator to find out how you can help.
Springfield Area
Every Tuesday evening from 6:30 to 8:30 p.m. for Hands of Hope.
All ages and skill levels: help with sorting, packing, counting, labeling and inventory.
Local volunteers have the opportunity to see and work with many of Convoy of Hope's relief loads before they go out.
Children under 12 should be accompanied by a guardian or responsible group leader.
No pre-registration is required for individuals, but Convoy of Hope appreciates being able to plan ahead for large groups. If you have ten or more people coming to help please fill out this form to pre-register prior to your group's arrival.
Disaster Response
Execution of damage assessment, delivery of supplies, debris removal, and emotional spiritual care in impacted towns is part of how Convoy of Hope partners with churches in the community that is in need of disaster response.
If you would like more information, please contact Convoy of Hope here.
International
International teams are from churches or other groups, they work for 8-10 days helping those in need.
If you are interested in these group opportunities and for the approximate costs involved, please visit Convoy of Hope Teams or contact us here.
If you are unable to volunteer, check out some of the ways you can still help Convoy of Hope…
Donate: Feel free to donate online or send a donation by mail. If you are interested in donating products or holding a fundraiser for Convoy of Hope, contact one of the individuals below.
If you want to volunteer, use the contact information above to get started!
If You are planning get medicaments online, now may be the best moment to do so. You can get drugs from the comfort of your desktop. Let's talk about other drugs you can buy from the Web. If you're concerned about sexual dysfunction, you have to study about levitra 20mg price. Currently many patients search for the exact phrase levitra 20mg on Google. (Read more levitra 20 mg). Most people perchance think the punch of Kamagra is well documented. As a rule, this may include high blood pressure, kidney disease, or a venous leak. What medication is suitable for erectile dysfunction? The so first thing you must be sure that when you buy drugs like Kamagra online, you get real medicine. Many of the web-sites offer potentially perilous fakes.