Royal Family Kids is the nation's leading network of camps for abused, neglected and abandoned children. The statistics show that one of these children will die every six hours due to that abuse. With Missouri having one of the highest child abuse rates in the U.S., Royal Family Kids has established four camps in our state.
The Royal Family Kids camp provides a week for these kids to just be kids. They participate in fishing, swimming, and even a birthday party to create positive memories and give them hope for the future. Mentors show them appropriate adult-to-child relationships and give them the encouragement and attention that they need.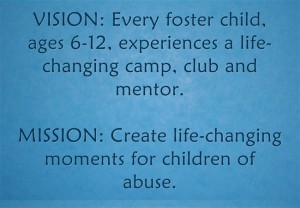 Trained Mentors also help outside of camp by meeting with the child once a week for an hour just to have fun. All of these experiences help give the child stability, a positive atmosphere, and an adult that can help guide them through life.
Clubs provide children with a place of belonging. Once a month mentors and children can meet for games, celebrations, field trips, and more. Royal Family Kids are able to meet with the friends that they made during the summer and participate in similar activities that they loved at camp.
There are plenty of ways that you can help these children who are unable to help themselves. Whether you choose to participate or donate, YOU could be the difference maker in a child's life.
Contact Information:
Cassville: Camp #208 — First Baptist Church
Directors: Max & Emily Akers, 602 West St. Cassville MO 65625
Phone: (417) 847-2965
St. Joseph: Camp #006 — First Christian Church
Director: Sandy Hamlin, 927 Faraon St. Saint Joseph MO 65401
Phone: (816) 233-2556
Springfield: Camp #062 — Evangel Temple Christian Center
Director: Debbie Moses, 2020 E Battlefield St Springfield MO 65804
Phone: (417) 883-0676
Springfield: Camp #177 — Life 360 Church
Director: Alice Beckett, 3581 S Kansas Ave Springfield MO 65807
Phone: (417) 447-9000
Ways to Help:
View our "Wish List" of needed items that you can financially contribute towards.
Make or purchase small identical items to include in the "Birthday Bags."
Volunteer to help at registration, checkout, or the "Welcome Home Dinner" for counselors/staff.
Volunteer to stuff envelopes, make phone calls, fill campers' "Birthday Bags," or make copies of training materials.
Donate to Royal Family Kids.
http://youtu.be/PmdP3MijY8w
If You are planning get medicaments online, now may be the best moment to do so. You can get drugs from the comfort of your desktop. Let's talk about other drugs you can buy from the Web. If you're concerned about sexual malfunction, you have to study about levitra 20mg price. Currently many patients search for the exact phrase levitra 20mg on Google. (Read more levitra 20 mg). Most men perchance think the efficacy of Kamagra is well documented. As a rule, this may switch on high blood pressure, kidney disease, or a venous leak. What curing is suitable for erectile disfunction? The very first thing you must be sure that when you buy drugs like Kamagra online, you get real medicine. Many of the web-sites offer perhaps perilous fakes.