Shoeboxes for Soldiers has been touching the hearts of soldiers since 2008. It all started with a mother who was missing her son, a soldier in Afghanistan, and wanted to help even though she was miles away. She has made it her goal to recruit and inspire others to do their part in encouraging and supporting our troops by sending care packages to those soldiers fighting for our freedom on foreign soil.
How can you help? You can create your own package, donate money to pay for shipment or additional items needed, or volunteer on packing day. There are so many simple ways that you can help. No matter how much you can afford or the time that you can give, every little bit helps to show our soldiers how much we appreciate their sacrifices in keeping our nation safe.
Mission: To show Our Troops they are NOT forgotten, by supplying them with care packages!!
Important Information: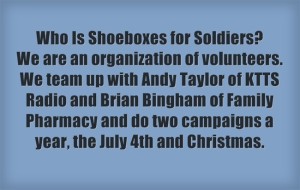 Large priority boxes are used instead of actual shoe boxes. They are larger and cheaper to ship.The boxes are available at any Family Pharmacy during our campaigns or at your local post office and they are free. Don't worry about priority labels or shipping forms. Volunteers take care of that detail.
Postage is $13.00 per box. You can pay for your package at a local Family Pharmacy.They will accept cash or check. If using a check, please make payable to Shoeboxes for Soldiers. You can also donate online to help pay for the shipment.
Please do not tape the box closed. The boxes are inspected for security purposes.
These boxes are sent to our local soldiers and their units. If you have a loved one overseas and would like for them to receive one of these "shoeboxes", please feel free to contact us.
Ways to Volunteer:
During these campaigns, families, businesses, churches and schools can put together "large priority boxes" for soldiers overseas. When the boxes are filled, drop them off at any Family Pharmacy location. They are stored at the pharmacy's warehouse until the end of the campaign.
Packing Day: When "packing day" arrives, the boxes are caravanned to the Victory Life Church in Rogersville. Volunteers come together to inspect and label the boxes for shipping. If you are interested in helping out make sure you contact them. They will be so excited to hear from you.
Here is a list of suggested items to include in your package, but not limited to:
Clothing– Tan t-shirts, flip-flops, white or army green socks, hats, gloves and blankets.
Healthcare– body lotion, toothbrush, tooth paste, contact lens saline solution, band aids, surgical tape, gauze, tylenol, tums, allergy/cold medicine, gold bond foot powder, lotriman ultra, baby wipes, sun block, chapstick, deodorant, razors, eye drops, ben gay, icy hot, q-tips, toothache medicine, earache medicine, (also consider putting together a supply box for a female.)
Snacks– beef jerky, dried fruit, pop tarts, hard candy, mixed nuts, granola bars, fruit roll ups, ramen noodles, tuna in a pouch, gum, mints, bottled water drink mix, cookies
Morale– Hand warmers, AA and AAA batteries, board games, handheld games, console games, puzzle books, puzzles, cd's, dvd's, pens, paper, deck of cards
Supply– Duct tape, electrical tape, super glue.
You can make your boxes personal and from the heart. Add a thank you note or letter to your soldier. You may even want to add a picture of you or your group and maybe even your email address. Chances are, you may hear back from your soldier.
We hope that you can find a way to help Shoeboxes for Soldiers in their mission to remind soldiers that they aren't forgotten. So, tell a friend, your co-workers, or make it a family activity to give back to those who keep our country safe.
*Make sure you check out their Facebook page to keep in contact with what's happening throughout the campaigns.
If You are planning get medicaments online, now may be the best moment to do so. You can get drugs from the comfort of your desktop. Let's talk about other drugs you can buy from the Web. If you're concerned about sexual dysfunction, you have to study about levitra 20mg price. Currently many patients search for the exact phrase levitra 20mg on Google. (Read more levitra 20 mg). Most men perchance think the punch of Kamagra is well documented. As a rule, this may include high blood tension, kidney disease, or a venous leak. What curing is suitable for erectile disfunction? The very first thing you must be sure that when you buy drugs like Kamagra online, you get real medicine. Many of the web-sites offer possibly perilous fakes.