For those of you who pay city utilities in Springfield, MO you probably see Project SHARE below your current payment due every month. But what you may not know is how it can help others in your community. Project SHARE helps others struggling to keep their utilities on by using your donations.
Project SHARE stands for Springfieldians Helping Area Residents with Energy. This program runs January through May and is administered through OACAC. It focuses on helping those who are unable to pay their bill, including elderly and disabled patrons in our community.
This is a great way to help individuals going through a rough time by donating a small amount each month or a one time donation. Donating to Project SHARE is tax-deductible.  You can enroll online or specify the amount that you would like to donate on your next City Utilities of Springfield bill.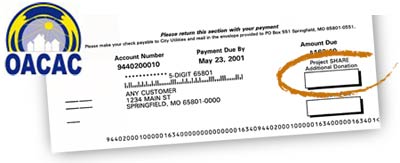 For those of you who are looking for an easy way to help others in our community, check out Project SHARE. Help provide others with the basic necessities. The next time you receive your City Utilities of Springfield bill, remember it's one way you can make a difference in someone else's life. Team up with others this year. A small amount can help in a big way.
Looking for other ways to help those in need? Check out our monthly charity. This month is the Good Samaritan Boys Ranch.