Lake Springfield is a hidden treasure in the Ozarks. The Boathouse & Marina is a great place for events or just a relaxing day enjoying the wildlife. There is more than a mile of shoreline and five miles of water trails. There is also a walking and biking trail that connects to the James River Greenway Trail. Make sure to find the time to see all that this park has to offer.
5324 South Kissick Avenue, Springfield, MO 65804
417-891-1550

Hours of Operation
October – May
9:00 a.m.-5:00 p.m. Monday-Saturday
11:00 a.m. – 5:00 p.m Sunday
June – September
9:00 a.m.-6:00 p.m. Monday-Saturday
11:00 a.m.-6:00 p.m Sunday
Lake Springfield Park Trail
The trail circles around at the east end of the park near the boat launch. It is 1.4 miles of wood-chip trail, but connects to the James River Greenway Trail creating a 2.25 mile loop.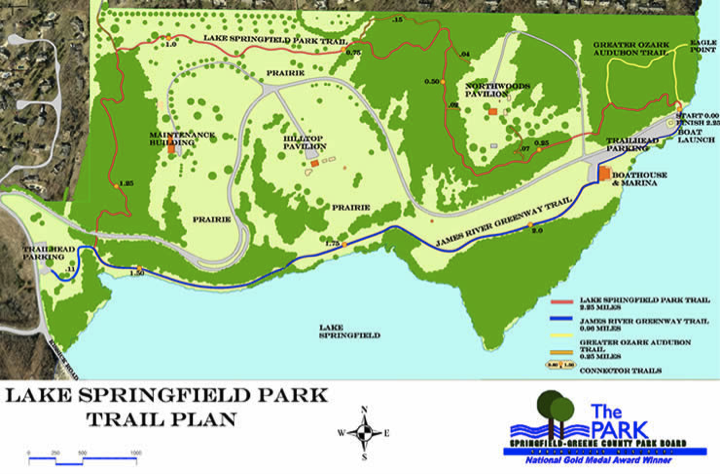 If You are planning get medicaments online, now may be the best moment to do so. You can get drugs from the comfort of your desktop. Let's talk about other drugs you can buy from the Web. If you're concerned about sexual disfunction, you have to study about levitra 20mg price. Currently many patients search for the exact phrase levitra 20mg on Google. (Read more levitra 20 mg). Most folk perchance think the punch of Kamagra is well documented. As a rule, this may include high blood pressure, kidney disease, or a venous leak. What therapy is suitable for erectile dysfunction? The very first thing you must be sure that when you buy drugs like Kamagra online, you get real medicine. Many of the web-sites offer possibly perilous fakes.